Work Play Every Day
Regular price
Sale price
$75.00 USD
Unit price
per
Sale
Sold out
This is the perfect gift for someone you love -- to wrap up 2023 mindfully and get a running start on 2024.  This set includes over 380 stickers total, not including the month tabs and chart header labels!
Included in this set:
2024 Work Play Every Day planner
The original creative productivity planner designed by BettySoo

A hardcover, spiral-bound planner featuring high-quality vanilla vellum-finish pages that can handle both your inky pens and biggest dreams.

It includes tools for setting, planning, and executing goals; forming and tracking positive habits; space and tips for gratitude / focus; and weekly creativity & self-improvement challenges, along with additional prompts to dig deeper and explore further.

It is chock-full of reflection points, presenting the opportunity to analyze what we are doing best, how we can improve, and what we can cut out from our lives and practices.
2 sheets of chart header labels
Month Divider Sticky Tabs
12 month tabs and a placement guide
The Essential Work Play planner stickers
6 sheets of small stickers designed to complement your planner, designed by BettySoo

Event markers, list headers, special day icons, and so much more
Affirmation Sticker Combo Set 1
3 sheets of stickers, each with unique designs hand drawn by BettySoo:
1. You Got This:
Three cheers 4 me
Why take names when I could be kicking even more ass?
On a roll!
You know what? I Got This!
2. You're the Best You:
You're the cat's meow
When I woke up this morning, you were on my mind
First Place being you
Love is a large umbrella
3. Growing Every Day:
Today will be great!
It is never to late to DREAM
I'm growing every day
The pot of gold is seeing a rainbow in the first place!
Affirmation Sticker Combo Set 2
3 sheets of translucent matte or holographic stickers, each with unique designs hand drawn by BettySoo:
I just called to say I love you
Oh sugar, you're so sweet!
When I woke up this morning, you were on my mind
2. Today's the Day:
Today's the Day!
Feelin' pretty okay
Goals (fist bump)
Yeah!
3. Take a Breath:
Deep breath
I'm not stressed, you're stressed #competitive yoga
Current Mood:
Can we call it a day?
Pigs Do Fly Sticker Sheet
1 sheet of stickers in translucent matte or holographic material, with 4 unique designs hand drawn by BettySoo:
Happy pig
Whistling pig
Worried / Surprised pig
Fierce pig
Cats Know Best Sticker Sheet
1 sheet of stickers with 4 unique designs hand drawn by BettySoo:
Time out (sleeping kitten)
OMG (startled spotted cat)
It looked like you needed help (cat on laptop)
This looks important. I think I'll sit on it (cat on open book)
* The translucent matte / holographic choice is for Sticker Combo 2 and Pigs Do Fly - other stickers come as described.
Share
View full details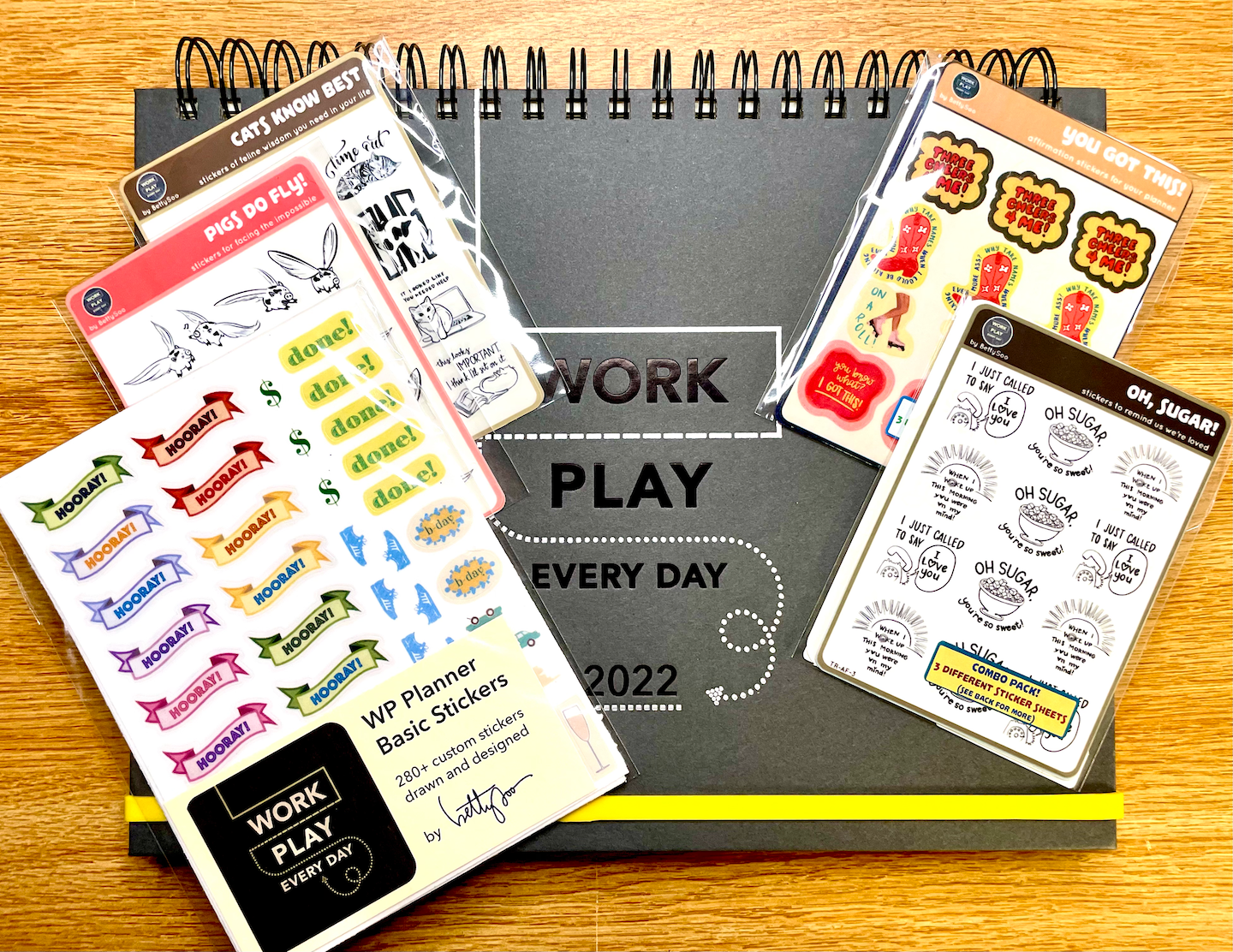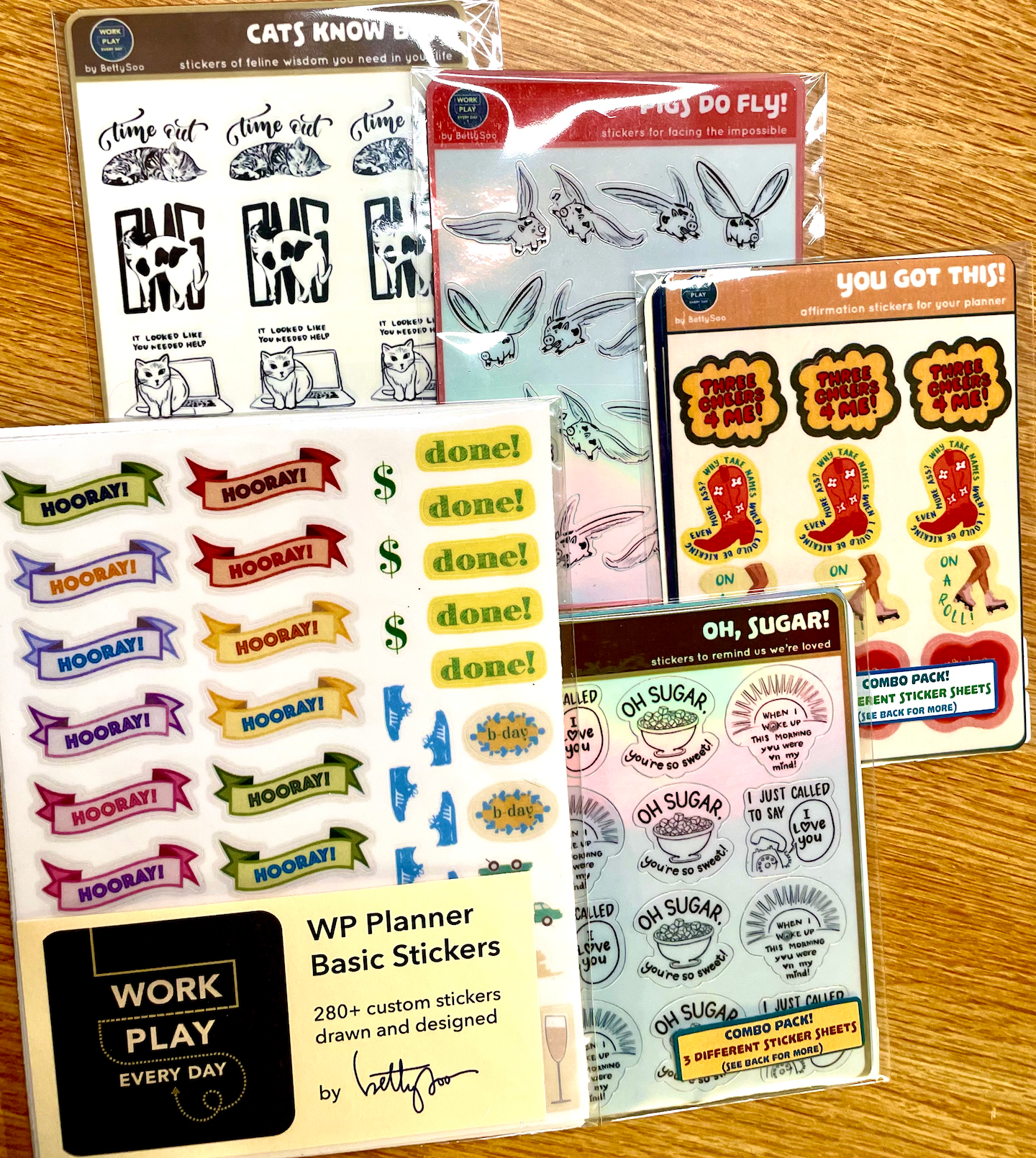 As a lifelong devotee of all things stationery, I was on a constant search for the perfect planner - one that combined the best of: bullet journaling practices, productivity tools, creativity, self-improvement tips, and task management. This planner gives you plenty of space to keep track of your to-do's while making sure you don't lose sight of the priorities most important to you.
Not only will it still have a strong, hard cover and a spiral binding, but it will be WAY more portable at a new 6"x9" size! You'll still be able to use all your favorite pens and markers on the thick, smooth pages you've gotten used to (and have told me you love).
Like everything else, manufacturing costs for books have gone way up — word on the street is ink and paper costs have increased as much as 20%, so it"s even MORE exciting that because of a new LOCAL printer partner this year, as well as a lucky break on the exact new paper size, the retail price for the 2023 planners will be the same as 2022.
There will only be 250 copies printed this year, so be sure to get your order in soon, and start thinking about who in your life could benefit from receiving one as a gift. Who is your favorite stationery addict? ❤️
*** 2023 PLANNERS ARE SHIPPING NOW ***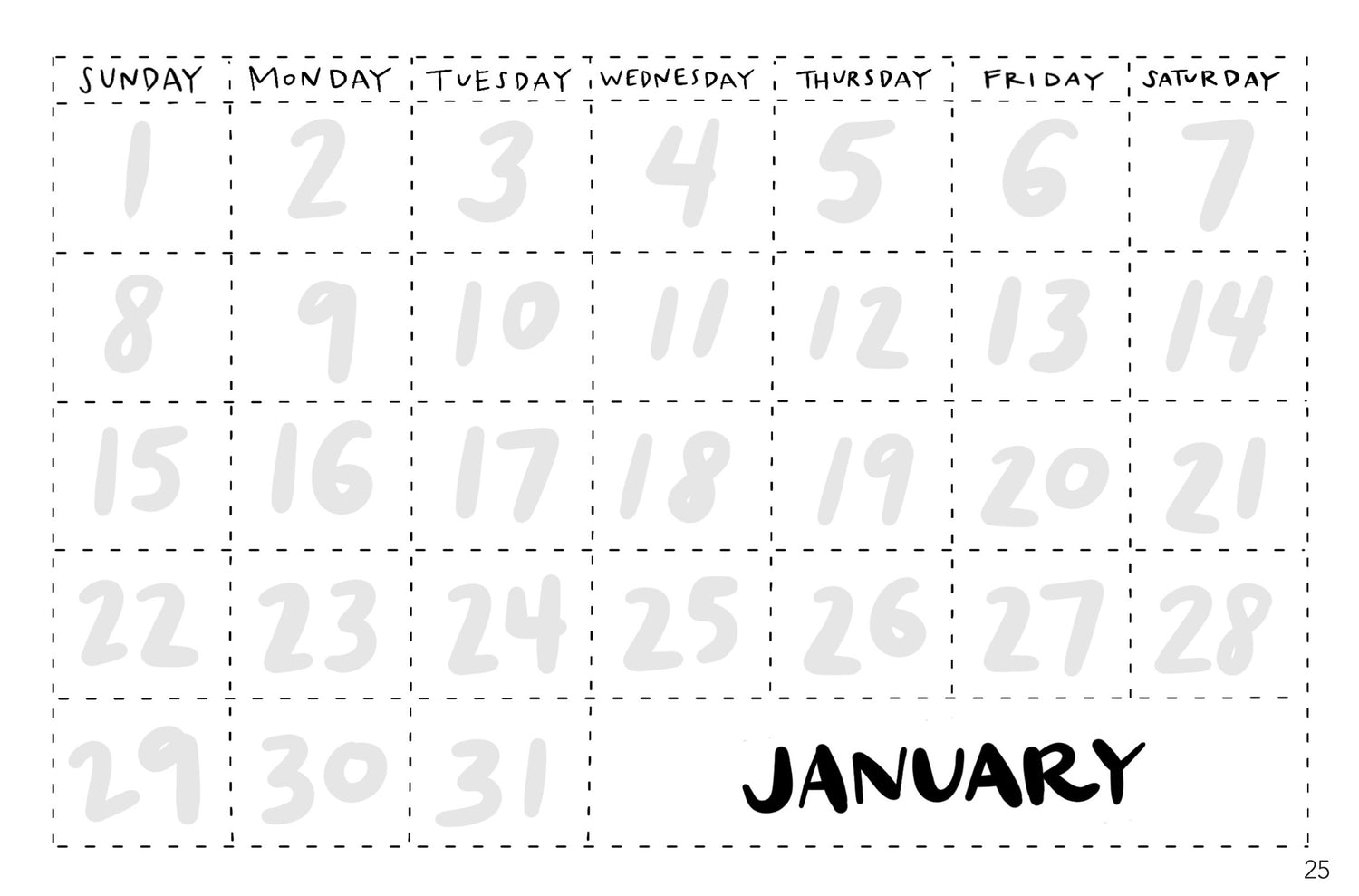 Hand-lettered details
There are so many hand-lettered details throughout the planner, including a unique hand-drawn calendar for each month and labels throughout the book.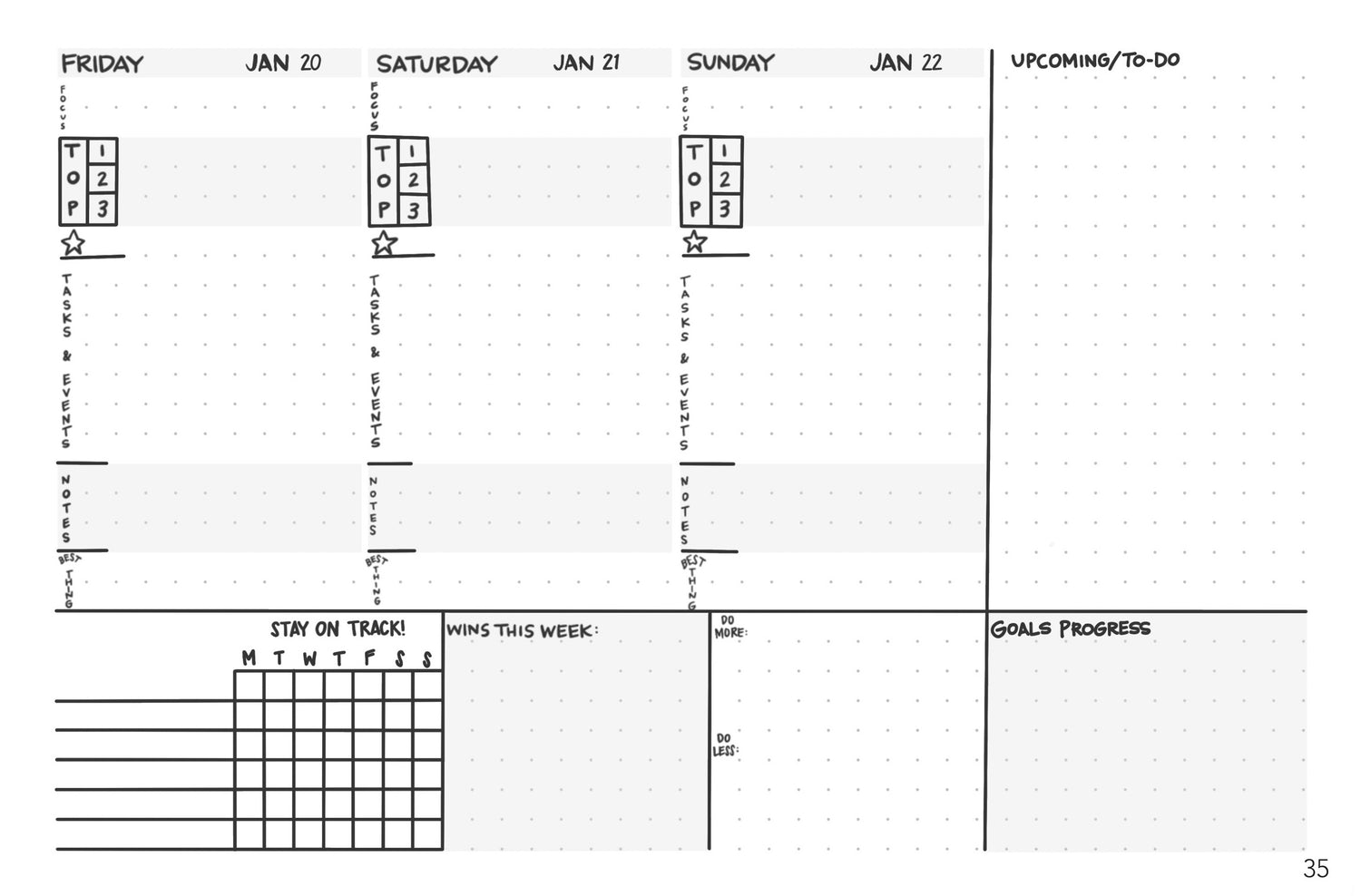 Bullet Journal principles, simplified
For some of us, spending hours drawing calendar and planner layouts is fun and relaxing. But for those who want to apply the helpful principles of bullet journaling and would rather spend time on other pen-to-paper practices in their planner, these weekly layouts take you right there: the finish line.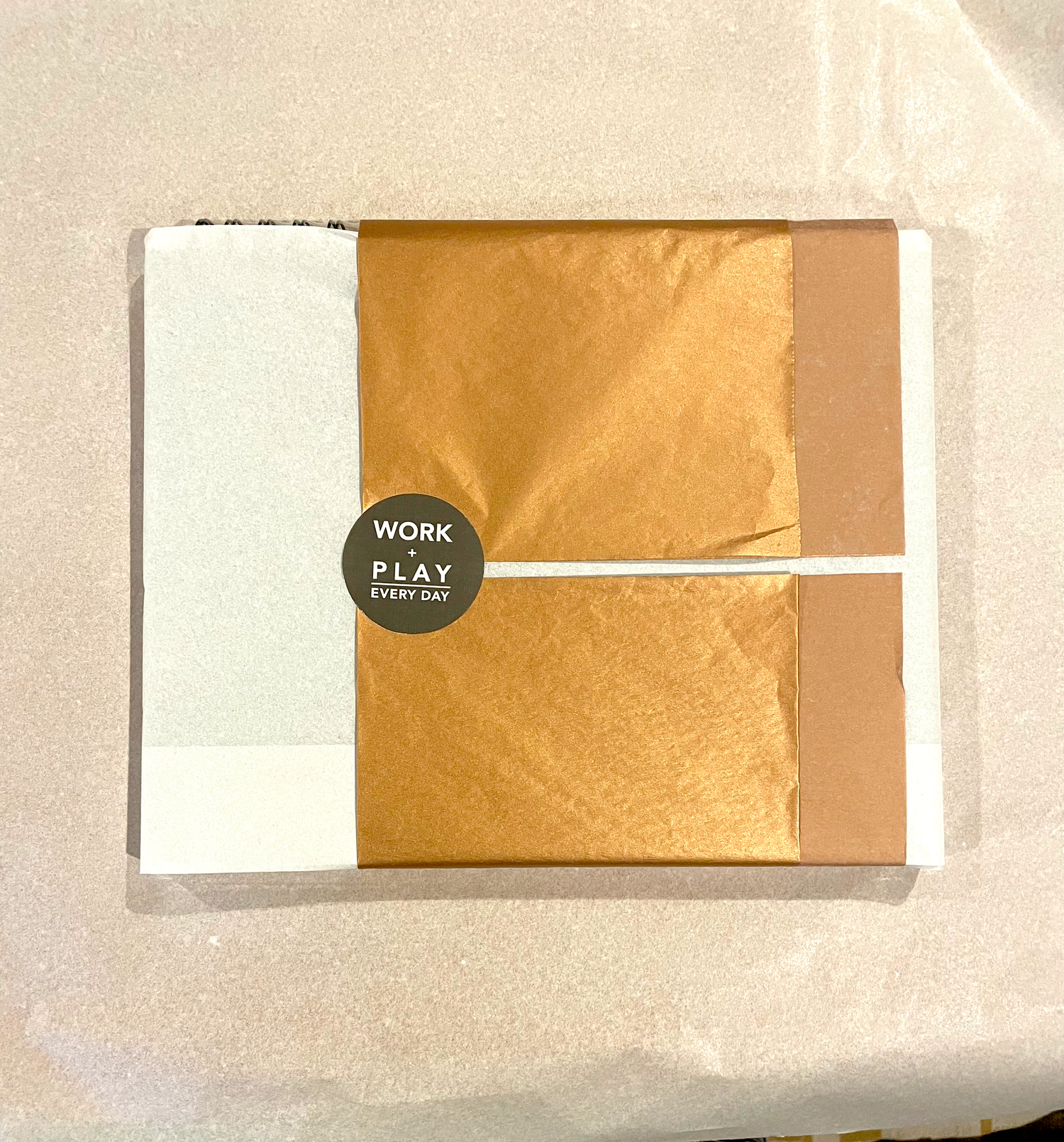 A beautiful gift
Whether your Work Play Every Day order is for yourself or someone else, your planner, stickers, or accessories will come packaged with love and care. I personally wrap every planner, and as I package it up to ship, I say your name and wish you a year of health, happiness, and dreams come true. Mushy? Maybe. Sincere? Always.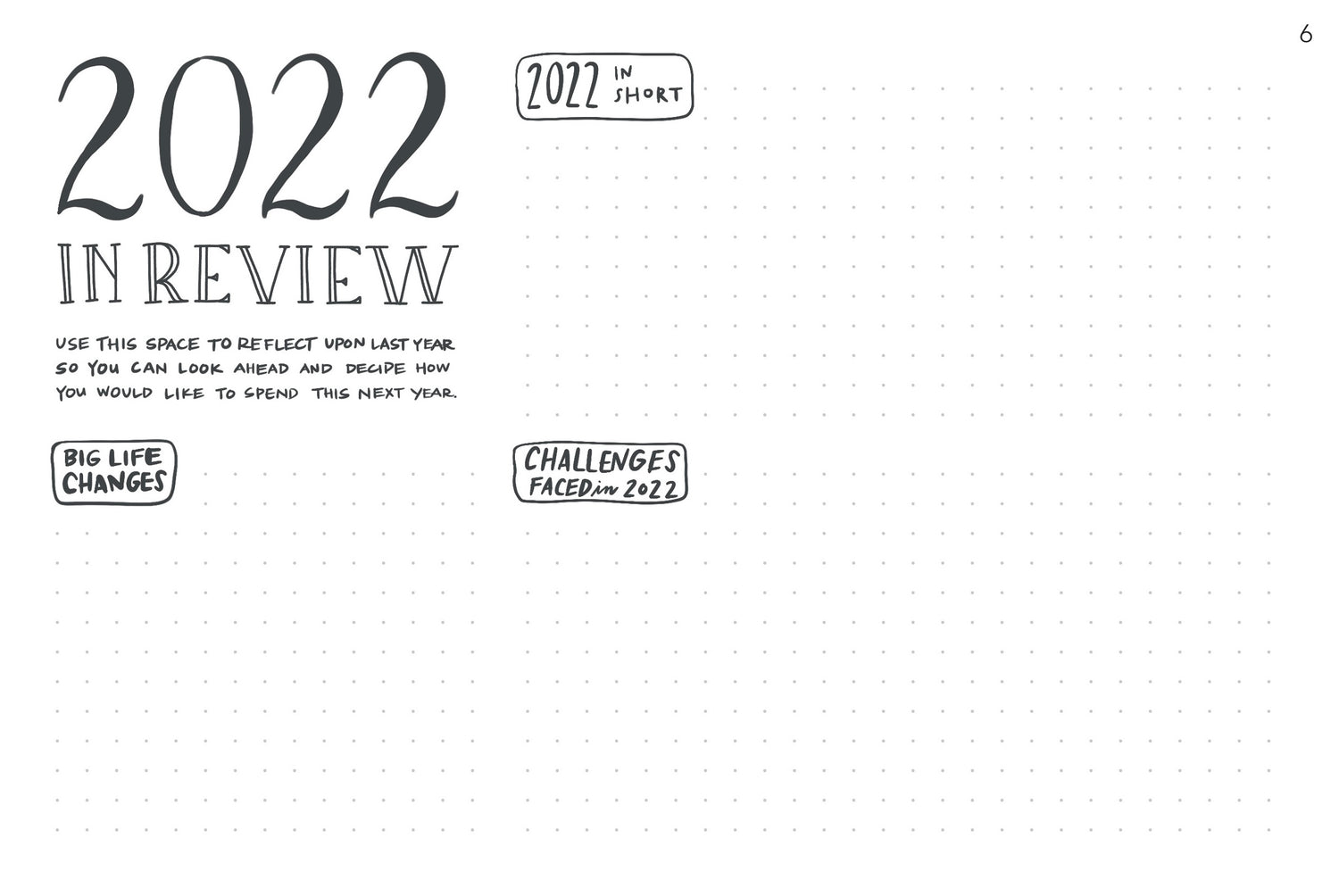 Looking back to look ahead
You might think I'm obsessed with the past, but reviewing where we've been is the best way to evaluate what we should change or keep the same in order to plan our best future. You'll find many tools throughout Work Play Every Day for analyzing past practices in order to shape and decide upon your own best practices.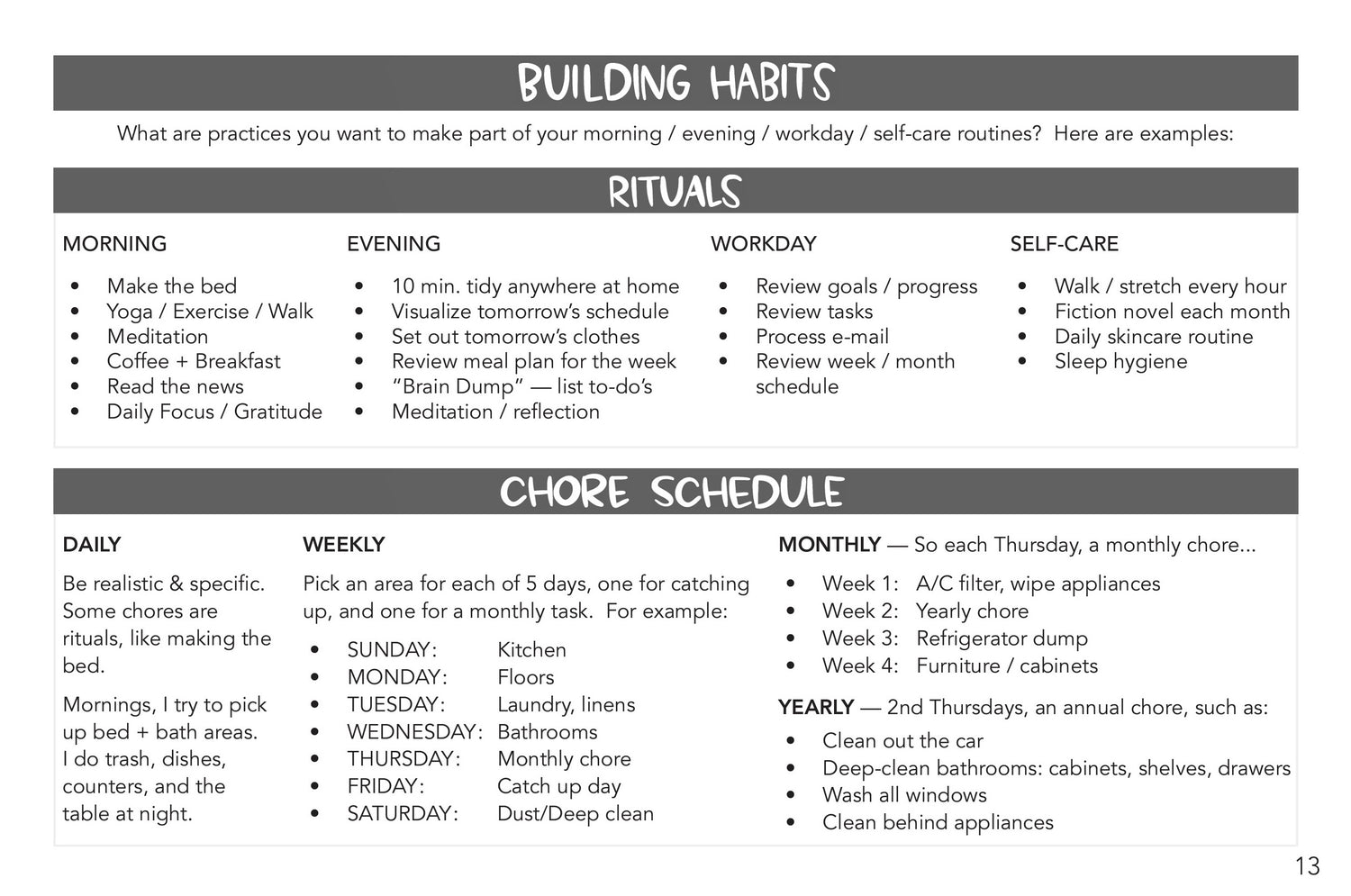 Holistic productivity
Most productivity planners focus on a single goal or career. What sets Work Play Every Day apart is its holistic approach to the idea of productivity.
I hope the tools, creative prompts, and "go further" challenges will help you feel productive in every area of your life: spiritual, creative, emotional, interpersonal, and whatever you identify as ripe for growth.
Oh, and yes, it can help your work life too!